Grant, Derek, Mike and Jase paddle across the Bass Strait.
We are 4 mates, kayaking unsupported from Wilsons Prom to Tasmania in support of the children of Bali. 
We leave (weather permitting) on the 26th March and could be paddling for two weeks/a month. We'll camp along the way on the small islands between the mainland and Tasmania. 
We hope you'll follow our journey and donate to the Campaign if you can. Corporate sponsors welcome. Logos will be displayed in our gallery. Every penny goes to the Children. See you on the other side!
My Updates
Sea Dogs Update 8:
Thursday 14th Apr
All good things come to an end and with mixed feelings we have completed what was 12 months in the making to paddle across Bass Strait. Happy to be finished and see our loved ones and to have a few creature comforts, but pained to leave the magnificence of the islands and people we encountered along the way behind.
Our last few days were spent resting and exploring Preservation Island and Spike Bay on Clarke Island - and wow were they sublime! We don't have enough superlatives to capture the immense beauty of these islands, just stunning bays, beaches and rocks formations abounded. It's as if Easter Island collided with the Maldives and the best of Tassie! And with the forecast rains nowhere to be seen we ended up with 2nd degree sunburn as opposed to the drenching we were anticipating (have we mentioned the weather forecast accuracy…)
So in wrapping up we'd like to say we are all still great mates and have seen the best the islands of Bass Strait have on offer from a very unique vantage point. It's been tough at times (as our butts can attest) but we are all pleased that we matured the thought bubbles in our heads into one hell of an adventure. We are very much looking forward to spending the money we saved not catching the Spirit of Tassie on beer, wine & chocolate now that we are on the 'main land'!!
Some very important thank you's, foremost our patient and supportive wives - we are indebted to you for allowing us to chase this adventure. There is this one other little thing we wouldn't mind doing next year….
Thanks also to the previous paddlers Tina Rowley, Eric Lambers, Anna Taylor, Peter Marusic who all willingly shared their experience & tips. It certainly made our trip safer and more enjoyable. Weather man Karel Vissel who beat the pros with his bespoke and unnervingly accurate predictions.. Nick Lynch for mid point AirBNB - life saver, and what happened on Flinders stays on Flinders
. The sailors who threw us a beer at Erith, you will go to heaven! Matt, Sal, Corrina & Mel for a butt saving medical grade cushions and some potent emergency supplies, we couldn't feel anything from the neck down but it was GREAT!! The caretakers of Deal Island, Jenny & Peter you are Anzac cookie quality legends. Uncle Tom for showing us the underbelly of Whitemark…along with Michael for the Uber back to Killacrankie - super awesome. Emma from AMBR Design for the merch and Lainey & Holty for a tub of Laineys Chilli Oil, it turned our dehyds into gourmet meals - and made Derek sweat like Jas in a spelling bee
. The members of the VSKC particularly Richard Rawlings for sharing their learned advice. Eion Corroon for keeping our craft in perfect working order - mission impossible. The Erith Mob for the use of your hut, promise we closed the door to keep the pesky penguins out.. Bec, Paul Cole & Chris Mercer putting their hands up as emergency contacts - you can go back on standby.
Thanks for all your donations, if you haven't and are thinking about it please know what it means to the kids of Bali - $50 provides English classes for 12 months and sets them up for a better life
And last but not least Troy Cochrane who did all the training and was set to go until work commitments got in the way, you were sorely missed
.
Thanks to everyone for following, we've loved sharing this adventure with you all. Stay safe, Grant, Michael. Derek & Jas
Share
Sea Dogs Update 7:
Thursday 14th Apr
With a favourable wind forecast our time in Whitemark was limited, and given that everything shuts down from 12pm on a Saturday it's fair to say it wasn't a thriving metropolis
. We did wonder whether we'd see a tumble weed rolling down the Main Street..? Before leaving we did get a chance to look at the locals tourism poster competition in a shop front - and based on some of them we did consider sleeping with a loaded spear gun
. In reality though the locals we met were salt of the earth folks who'd give you the shirt off their back, and if we were them we'd be concerned with Flinders sudden prominence as a holiday destination and the subsequent impacts. We did wonder how they viewed sea kayakers - we saw ourselves as akin to friendly jelly fish drifting past on their seasonal migrations trying not to bother anyone.
Leaving Whitemark coincided with a light northerly and clear skies - perfect. Mike was keen to use this as the opportune time for the traditional nudie leg, but with Derek rationing sunscreen and Gibbo's history of melanoma's he wasn't prepared to risk any procedures on hard to reach spots…. As we paddled south the northerly strengthened as did the following waves making for magnificent last 15k on a 42k day. We all pulled into Preservation Island sporting sore jaws from smiling so much. Camp was made on the beach, and with high tide literally 2ft from the tent door we imagined this to be better than the Maldives
Today is a rest day then onto Clarke Island tomorrow ready for the last crossing to Tassie. Hard to believe it will be over soon
. Thanks again for following, and please consider donating to the Bali Children's Foundation. For those who have already donated you are legends!! Stay safe, Grant, Jas, Derek, Mike
Share
Sea Dogs Update 6
Thursday 14th Apr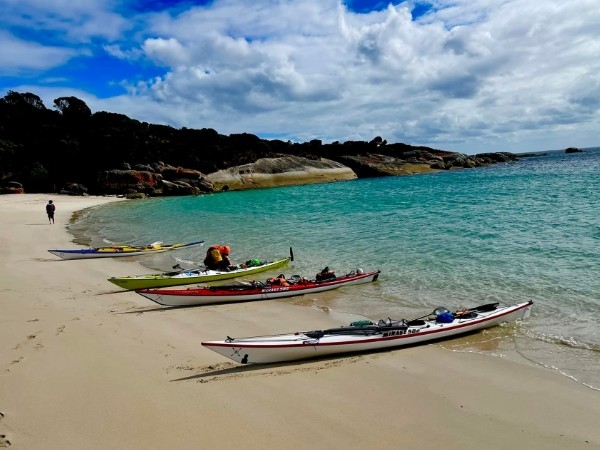 Before leaving Roydon Island we cut a walking lap, this involved jumping around the coastal rocks with frequent stops to peer into the crystal clear water to see what sea life existed - oh how we wish we had another day to spend snorkeling around and thru the waters of this magnificent place. Eventually it was time to push off for a nice easy 15k skip to Allports Beach, which in reality was a testing slog into another unexpected headwind. We decided that the bureau of meteorology and weather app builders must smoke weed, throw darts at a board or just luv playing mind games when they post upcoming forecasts…they're as accurate as Jas was in front of goal for Peninsula Old Boys..
Once at Allports we weren't disappointed with the location - fine white sand, aqua blue water, prehistoric rock formations and a cracking camp site with a fire pit made for a great overnight base. Again we were wishing we could stop & prop for a few days to explore the beaches and water.
From Allports it was off to Whitemark, and like a golfer hitting it sweet off the tea we forgot about all the missed putts and shots into the rough as a stiff northeast wind blew us down the coast relegating previous headwinds to the back of our memory recesses. But like all bad golfers we were back in the rough around the next headland and copped another punishing headwind all the way into Whitemark. Suffice to say we were pretty happy to hit the beach and made a beeline to Cate's Cafe for lunch and REAL coffee
. Derek was last seen rocking back & forth sucking his thumb hoping to never experience another headwind, or take up a trip invitation up from Gibbo again
As we write the team dynamic is a little tense, based on our next destination. Chapel Island is famous for its specially evolved and prolific tiger snakes who have adapted to feasting on the mutton bird population. Gibbo is keen to recreate David Attenborough's snake island documentary and is desperate to spend a night there. Jas on the other hand is petrified of snakes…and I guess when you consider that with his chest puffed out and in the right light he does resemble the silhouette of a mutton bird his fears are somewhat justified… Anyway the vote is 3-1 against going so looks like Preservation Island is the more likely next stop.
Tonight we hit the town and go large and hard in Whitemark…each of us is sure to smash at least 1.5 beers before falling asleep on the bar. Til the next update, thanks for following and donating to the Bali Children Foundation. Cheers, Grant, Mike, Derek, Jas
Share
Sea Dogs update 5
Thursday 14th Apr
After what we've termed Big Tuesday it was time for a rest day using Trouser Point as our base thanks to Nick Lynch
. We used the day to recuperate by walking up Mt Strzeleki….absolutely beautiful albeit a few of the team muttered a few incoherent 4 letter words as the elevation took hold of their calves
. We also tasted the best of whatever Whitemark had on offer and overloaded on caffeine, cafe food and a few sneaky beverages - looking forward to another flyby of Whitemark on Sunday
Today was a short 14k wind assisted jaunt from Killiecrankie to Roydon Island - bliss! We are now tucked away from the wind in another cosy hut, one of the many hidden gems we've found as we've explored this unique chain of islands. Tomorrow is another short skip to the fine sands of Allports Beach.
Till then, sea dogs out - Grant, Derek, Jas, Michael
Share
Sea Dogs Update 4:
Thursday 14th Apr
The 65k big crossing is done & dusted, but not without a ton of physical & mental exertion. With a weather window big enough to make a run we set off at 5am from Erith Island and paddled under the light of headlamps and glow sticks around Deal Is and set a course of 122 degrees towards Flinders Island. The first 4 hours was a white knuckle ride with the predicted SW breeze pushing us along and thru a rolling swell bigger enough to have land and the paddler next to you fading from view on every wave - exhilarating and terrifying at the same time. Mid paddle the winds abated and we pushed past Craggy Is, a lump of rock that we called a few 4 letter names after it seemed to hang over our left shoulder for tooo long! The last 20k was a slog…the predicted SE wind shift came in early and although we'd factored this in it didn't make it any easier to stomach. Hence the last 4 hours was a game of mind over matter and a battle within as we slowly but surely closed in on a cloud draped Flinders Island. Getting ashore was amazing, both for getting it done and also having a mate there with a 'care package' of red wine and chocolate! (You're a legend Nick Lynch!). Once we'd stopped stumbling around it was off to the Whitemark pub for pot and Parma night - gold!
Thanks for all the messages and support, we are truly grateful - especially our wives who rode every klm of that one via the tracker, promise we won't do it again (for awhile
).
We still have around 7 days of paddling to go before reaching Tassie proper but it's mainly coastal and distances are shorter so a little easier on the physical and mental front.
Thanks for following, Grant,
Derek
, Mike, Jas x
Share
Sea Dogs Update 3:
Thursday 14th Apr
The last few days have been a bit Ground Hoggish with a daily routine of….wake up late, breakfast and coffee, get the weather forecast (the wind howling thru the trees says enough…), forage for firewood, walk 2k to get phone service then spend the evening eating dehydrated meals and playing cards around the fire. We have reached desperate times though with the red wine supplies completely exhausted! Rain has intensified over the days and the fire in getting lit earlier each day, firewood is a precious resource and each piece is signed out by the storeman
. Night time brings a pleather of sound - rain on the tin roof, waves crashing, wind howling and baby penguins squawking for another feed, all making for sweet dreams of gentle northerly winds
On the health front all is okay, albeit Gibbo had a crown fall out which he has sikaflexed back in, DB is suffering 2nd degree burns of his stern region after a 11/10 curry, Jas is down on lung capacity after gassing himself nightly and although Mike seems ok he does scratch a lot..
As much as this place is unique and beautiful we are keen to explore other unique and beautiful places on Flinders Island so keen to make use of the next window of favourable winds, maybe tomorrow….
Thanks from all of us, Grant, Jas, Mike, Derek
Share
CALAMARI FOR LUNCH
Thursday 31st Mar
120 km done!!
The weather has closed in and we are sitting tight until it improves... 
Not a bad place to be spending time - plenty of fish to eat, we even had fresh calamari cooked by Mike for lunch! 
Spent the night in the Hut, away from the wind last night and slept well (tight squeeze). 
Will update you all on the plans as soon as we have a firm leaving date. 
Coverage is intermittent and we've been doing a quick 20-minute paddle across to Deal Island to connect with family. 
Thanks to all who've sent messages of encouragement/or donated to our BCF fundraiser. Very much appreciate you all. 
Share
Hogan Island
Monday 28th Mar
Big leg yesterday. Landed at Hogan Island, had a swim, caught 2 fish for dinner and then hiked up "Everest" to get a signal to call home!
Share
Launched!! Saturday 26th March
Sunday 27th Mar
Day 1 was a success even with very heavily laden boats and a tide that challenged us! 
Grateful for perfect weather and a stunning campsite. Tomorrow we leave at daybreak for Hogan Island.
Share
LAUNCH DATE SET!
Friday 25th Mar
We leave tomorrow (Saturday 26th March). 
Tidal River to Refuge Cove. 
Share
Thank you to my Sponsors Anonymous Ken Lowe Graham Dugdale Sarah Bullock Lainey's Foods Bit Shmick Prue And Chris Bec Gibbs
Troy & Joanne O'sullivan Adrian Hare Chris O'shea Vanessa And Nick Wootton David Mooney
Deanne Bulstrode
Xplora Watercraft Paul Samaras David Reeves Jim And Corrina Sal & Matt Davis
Helen & Jon Deb And Matt Anita Machin Christopher Brodie Kerry Paul & Caren Templar Natalie Howard David Barrow Sarah Hudson Stephen Kimber
Liz. Carolyn Whelehan Chris, Sarah & Jack Kayley Ward Deb Sandra Anderson Mel Fw Salar Farzad Dean Whitehead Roberta Sullivan Em Chetwin
Julian Walker